27 dicembre 2017
The Kwanzaa begins on the 26th of December, the festival that celebrates the roots of the African American community. The seven day celebration was conceived in 1966 by Maulana Karenga, professor of African Studies and activist of the African-American rights movement in the United States.
The name Kwanzaa derives from the Swahili expression "matunda ya kwanza", which means "first fruit of the harvest".
During the festival, families organize various activities around seven principles ("Nguzo Saba"): Unity, Self-determination, Collective Work and Responsibility, Cooperative Economics, Purpose, Creativity and Faith. The main symbol of the festival are seven coloured candles representing the seven principles; they are lit one at a time for each of the seven nights of the week.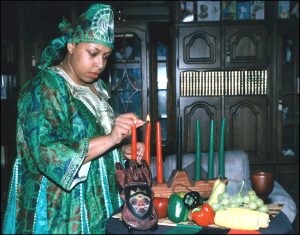 Tech. Sgt. Jennifer Myers (above), 66th Air Base Wing noncommissioned officer in charge of the Military Equal Opportunity office, demonstrates a Kwanzaa ritual where she lights a candle in the Kinara (Wikimedia Commons)
(Image: Flickr)