10 ottobre 2017
Jean-Michel Basquiat was one of the leading figures of American graffiti. London's Barbican Art Gallery is celebrating the artist with a major retrospective including more than 100 works. Among the works on display are paintings and drawings as well as rare films, photographs and archival material.
The exhibition places the artist's work in the context of the times he lived in. Born in New York in 1960 and dead at age 27 from a heroin overdose, Basquiat made a fundamental contribution to the New York art scene of the 70s and 80s.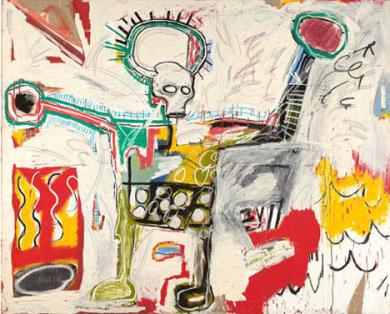 Jean-Michel Basquiat, Untitled, 1982. Museum Boijmans Van Beuningen, Rotterdam (barbican.org.uk)
Click here to see a Basquiat-themed Pinterest board
Click here to read the in-depth study, Basquiat and Downtown
The exhibition includes works related to important moments in the artist's life, such as his friendship with Andy Warhol.
(Image: barbican.org.uk)