21 settembre 2016
The first museum of the United States dedicated to the African-American history and culture is scheduled to open on September 24.
The NMAAHC is located on the National Mall, near the Washington Monument and is part of the Smithsonian Institution, one of the largest museum complexes in the world.
Here are exhibited about 3,500 artefacts of the total 36,000 donated by the Americans. The collection illustrates how black history is an integral part of the country heritage.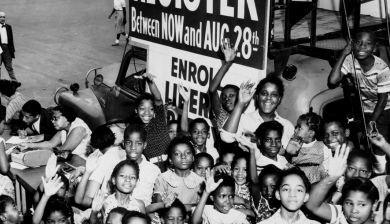 Segregation, civil rights, history and politics but also clothing, sports and music: these are some of the sections of the collection that you can find on the museum website. The Smithsonian's Magazine also allows you to navigate sections of the building through an interactive tour.
Thousands of visitors are expected to attend the official opening ceremony, which will take place on Saturday 24 in the presence of Barack and Michelle Obama.
(Cover image: Wikimedia Commons)